Comparing Early Termination Fees of Popular Wireless Service Providers
Comparing Early Termination Fees of popular Wireless Service Providers: With so many companies offering different plans and service plans, it's overwhelming for a consumer to know where to begin. It's overwhelming when a consumer wants to make sure they are getting the best plan available since premature termination fees can add hundreds of dollars to be deducted from your monthly bill.
But consumers don't have to blindly sign up for any plan they find. Instead, consumers can use online tools to compare different plans and choose the one that makes the most sense.
When comparing wireless service provider plans, you have a choice to make: do you sign a two-year contract or pay full price for your phone upfront? Most customers prefer the latter since it means not worrying about paying extra every month for a phone.
And it's usually cheaper, too. However, paying for a phone upfront isn't for everyone. For those who prefer monthly payments, but can't afford to pay a full price upfront, early termination fees (ETFs) can be an unwelcome surprise. But which wireless service provider has the lowest ETFs? That is what we'll be seeing in this article, so let's start…
AT&T Early Termination Fee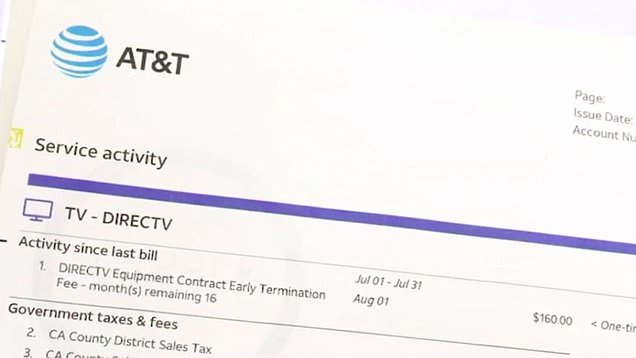 AT&T releases its list of early termination fees for subscribers every year, and it's usually pretty big. Last year, AT&T increased the fees it charges to those who cancel their contracts early.
AT&T is hoping the merger will increase its subscribers, so instead of investing in new, better technology, the company seems to be more invested in increasing its profits.
An AT&T Smartphone that requires a data plan and that you signed a service agreement with will incur an ETF of $325 minus $10 per month that you have already completed. If you have been with AT&T in your current contract for eight full months and consider switching to another provider, your ETF will be $245. $325 – ($10 x 8) = 245.
It will cost you $150 minus $4 per month if you own just a regular phone.
| | |
| --- | --- |
| New or AT&T Certified Like-New device | Early termination fee |
| Smartphone with data service | $325 minus $10 for each full month of completed service commitment |
| Basic phone, tablet, mobile hotspot, AT&T Wireless Internet, or other connected devices | $150 minus $4 for each full month of completed service commitment |
Refer to this page for more details on AT&T's ETF calculation
Verizon's Early Termination Fee

If you recently signed up for a new phone plan, you might have come across Verizon's Early Termination Fee (ETF). You can use the Verizon early termination fee calculation check from below:
In the case of a Verizon Advanced Device, aka Smartphone, the ETF is $350 minus $10 for each completed month. Accordingly, if you currently have Verizon wireless service and have been with them for eight months, and if you're considering switching, then the ETF will be $270. $350.00 – ($10 x 8) = $270.00.
The Early Termination Fee for non-advanced Devices is $175 minus $5 for every complete month of your contract term.
You can check the complete details in their customer agreement
T-Mobile's Early Termination Fee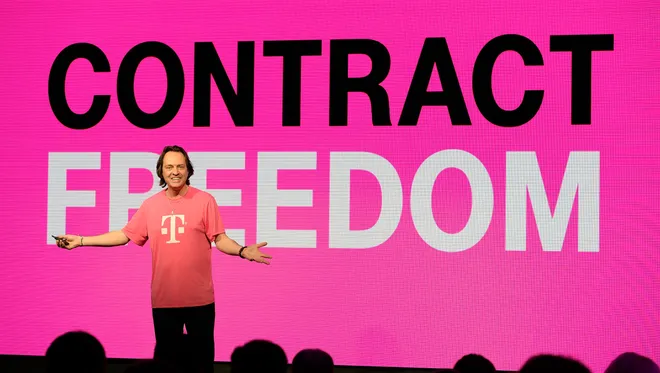 T-Mobile's ETF differs a little bit from others in that it's a flat fee that is directly related to how much time you have left on your contract.
Upon early termination for contracts with more than 180 days remaining, the Early Termination Fee will be $200.
The ETF amount will be $100 if your contract has 91-180 days left.
From 30 to 90 days, the fee is $50.
The amount is $50 or the amount of your monthly recurring charges, whichever is less if you have less than 30 days left on your contract.
Right below the tiers of prices, it mentions you can choose to return to T-Mobile. This is a good thing on T-Mobile's ETF support page. You will be credited the ETF Fee back to your account if you leave T-Mobile and decide to return within 3 months (90 days).
In addition to simply canceling, it lists other options.
Check their service agreement for more details.
Sprint's Early Termination Fee
If you're on Sprint, you've probably heard of the early termination fee—or ETF—that can jack up your monthly bill following the end of your contract. If you're looking to save money, it might make sense to shop around for a new service, but if you're planning to stick with Sprint for a while, it's probably worth learning how to avoid that pesky ETF.
You can calculate Sprint's ETF by multiplying your remaining contract months by $20, the maximum fee being $350 and a minimum of $100 per line of service.
Sprint's Early Termination Fee is $320 if you've had your contract with them for 8 months and are considering leaving. [Calculation: $20 x (24 – 8) = $320]
The fee is $350 if you have 18-23 months remaining. The fee is $100 if you have less than five months.
The Early Termination Fee for non-Smartphones and non-advanced Devices is a maximum of $200 and a minimum of $50. The calculation method is the same, except it is $10 instead of $20.
You would have to pay $160 to terminate a Sprint contract if you had a non-Smartphone for 8 months. This works out to $10 x (24-8).
For 20 months or more it is $200. For 5 months or less is $50.
Cricket's Wireless Early Termination Fee: will cricket pay an early termination fee?
Cricket customers cannot take advantage of this ETF since they do not have contracts with them! Having the freedom to come and go as you please is awesome, isn't it?
MetroPCS Early Termination Fee
MetroPCS, just like cricket is another wireless provider with no contacts and no termination fees.
Other Wireless Providers
Wireless providers aren't all created equal. Some providers will give you better speed than others, some will let you get unlimited data, others will let you keep your phone number when you switch, and some will give you better customer service. Use the guide above to compare wireless providers in your area.
In addition to early termination fees, here are some additional things to keep in mind:
The state in which you live may impose taxes on ETFs, as well as local laws.
A separate ETF will apply to each line of service on your account that you wish to cancel, so you will be charged separately for every line of service you wish to cancel.
In the event of a cancellation and return of your device within the buyer's remorse period, there is no Early Termination Fee. Depending on your wireless provider, this buyer's remorse period varies, but it's generally 14 days after purchase.
Please read your contract carefully before signing it, and keep an eye on any changes made to your contract by your wireless provider if you intend to cancel. Maybe you can cancel without paying any fees if your contract changes. You may not be obligated to your wireless provider if they change your contract without your consent. This would be a legal issue.
You won't be charged for canceling a Prepaid phone since it has no contract.
Conclusion
Before getting a brand new phone, you should take a look at your carrier's early termination fees. These fees can be upwards of $200, making it very expensive to switch providers. However, some carriers are a lot cheaper than others.