7 Reasons to Switch from Android to iPhone (& 6 Not to)
The debate between Android and iPhone has been raging for years. You might have found yourself wondering, "Is it worth switching from Android to iPhone?" If you're on the fence about making the switch, this blog is just for you. We will cover everything from the benefits of switching to iPhones to the things that you may regret after you've made the switch.
We will also provide some top tips for transitioning from Android to iPhone so that you can make a seamless transition and enjoy all that iPhones have to offer. Keep reading as we answer some frequently asked questions and help you decide which one's better for your needs.
Is It Worth Switching from Android to iPhone?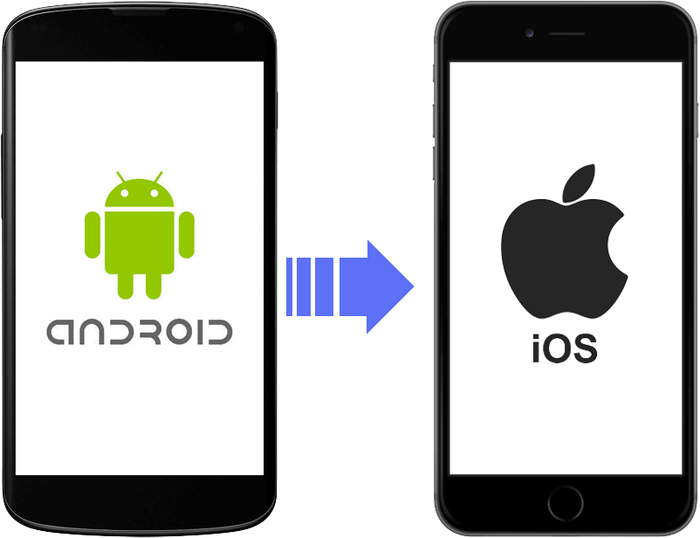 For most Android users, switching to an iPhone may not seem worth it. A key downside is reduced customizability – Android allows widgets, launchers, and deeper system-level personalization. Leaving that behind for Apple's restricted iOS can seem limiting. Additionally, many recent high-end Androids rival or beat iPhones on hardware capabilities like battery, charging speeds, display resolution and refresh rates. Switching would mean abandoning proven hardware advantages. Android also allows more flexibility in default apps, sideloading, and accessing files. And for those invested in the Google ecosystem, switching to iPhone means losing convenient integrations with Google services and Assistant.
Ultimately, Android offers more advanced capabilities and options for power users. While iPhones offer a slick experience, switching from Android would likely feel like a step back in terms of functionality, compatibility, and making the phone truly your own. For most Android devotees, the perceived benefits of iOS likely wouldn't outweigh what would be lost by switching away from the highly customizable Android environment.
If you are still well bent on the notion of switching from Android to iPhone here's how to do it (We will miss you):
How to Switch from Android to iPhone?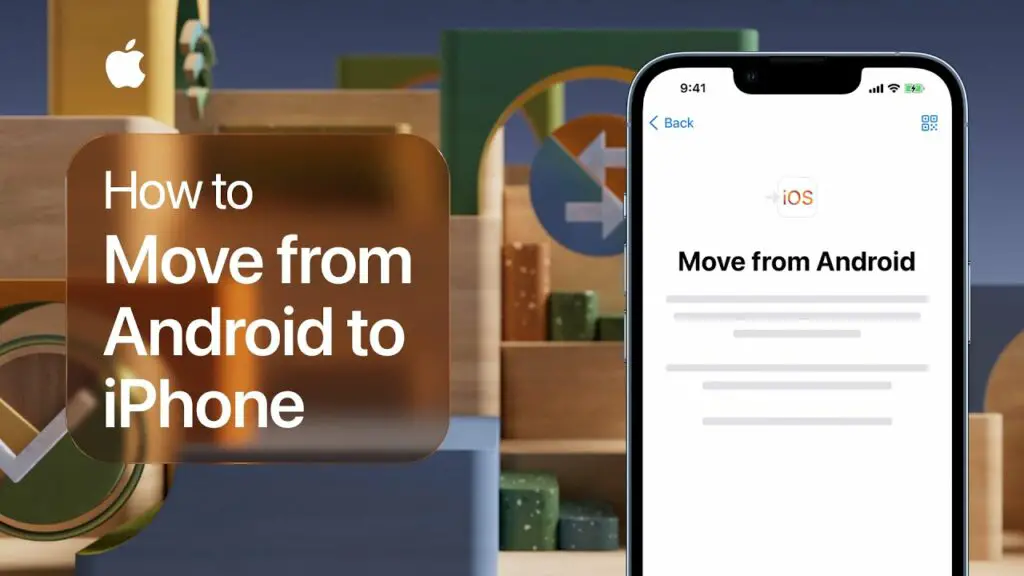 Switching from Android to iPhone is made easy with these methods.
Method 1: Transitioning with Move to iOS (Proved)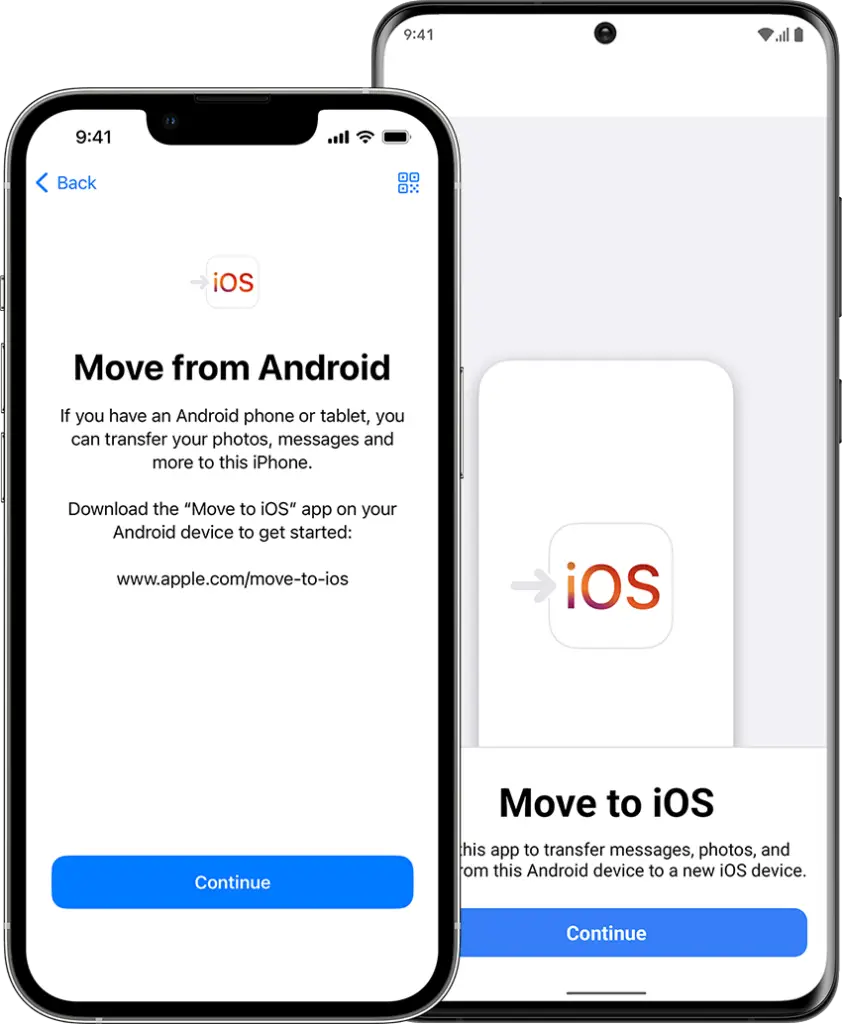 You can easily transfer data from your Android device to your new iPhone using Apple's "Move to iOS" app.
Here's how:
Get the "Move to iOS" app from the Google Play Store on your Android device. Ensure you have enough storage space on both devices for the transfer.
Begin setting up your iPhone until you reach the "Apps & Data" screen. Tap "Move Data from Android."
On your Android device, open the "Move to iOS" app, tap "Continue," agree to the terms and conditions, and tap "Next."
On your iPhone, tap "Continue" and wait for a code to appear. Enter this code on your Android device and wait for the "Transfer Data" screen to show up.
On your Android, choose the content you want to transfer, tap "Next," and wait for the transfer to complete.
Once the transfer is finished, tap "Done" on your iPhone.
Method 2: Sync Media Files with iTunes (Simple)
To move media files like songs and videos from your Android device to your iPhone, follow these steps:
Link your Android device to your computer with a USB cable.
Copy the media files you wish to transfer to your computer.
Unplug your Android device and connect your iPhone to your computer via a USB cable.
Launch iTunes on your computer and select your iPhone.
Navigate to the "Music," "Movies," or "TV Shows" tab, depending on the type of media you want to move.
Simply drag and drop the media files you want to transfer from your computer to your iPhone.
Wait for the transfer to finish.
Things You'll Regret Upon Switching to iPhone from Android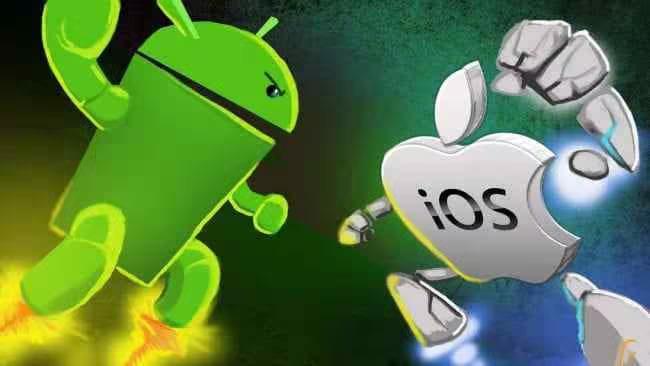 If you've been using Android for a long time, there are certain features you might miss on your new iPhone, which could potentially make the switch disappointing.
Here are some things you might no longer have:
Limited Adjustability Options for Notifications & Widgets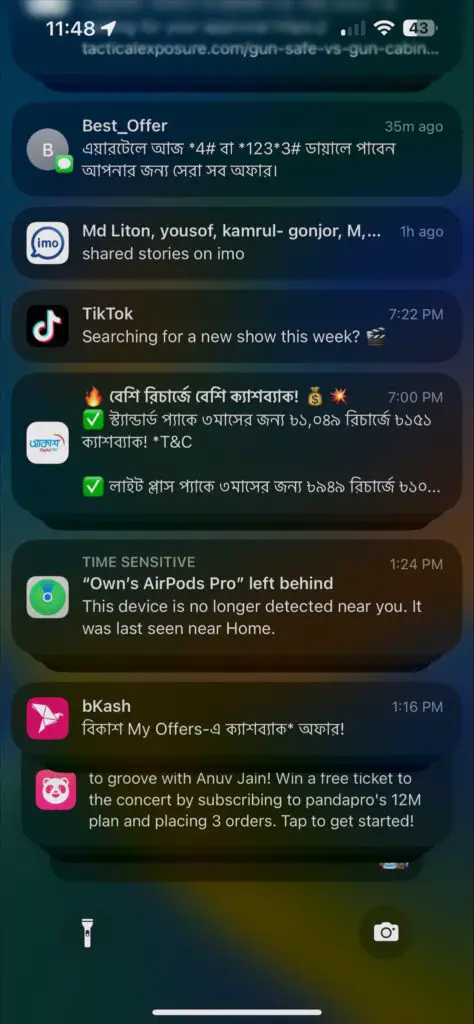 Over time, Apple has responded to customer feedback about the limited customization options in iOS by opening up some of its APIs. Nevertheless, in comparison to Android, iOS still falls short in terms of flexibility.
On Android, you have the freedom to place widgets anywhere on your home screen and tailor notifications to specific apps or contacts. iPhones, on the other hand, lack the same level of adaptability. For example, when you receive multiple notifications from a single app, iOS typically displays separate banners for each, while Android bundles them together for more convenient management.
Additionally, Android apps provide options for customizing notification types, whereas iOS users need to navigate to the settings menu to make these adjustments, which has been a source of frustration within the user community over the years.
Not as User-Friendly Use of Google Apps & Services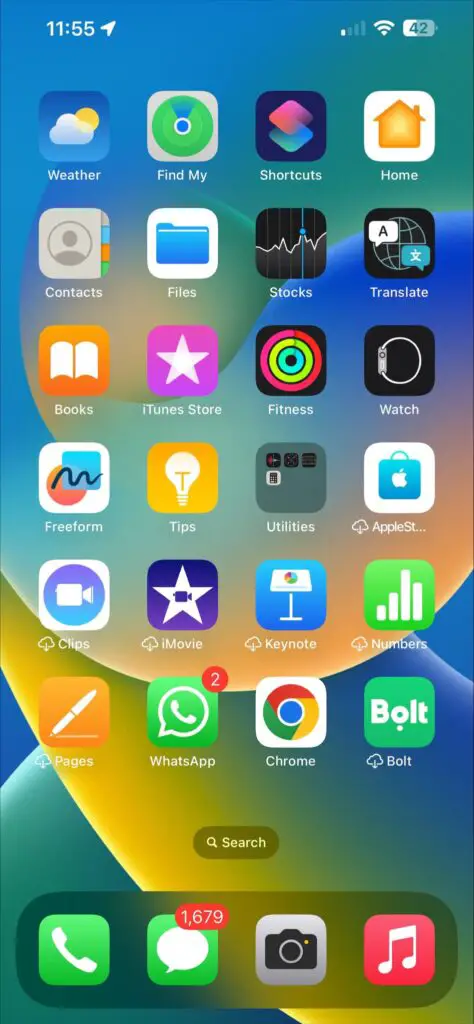 iOS devices include a set of Apple's own apps and services like iCloud and iMessage. However, if you heavily rely on Google's services for communication, entertainment, and productivity, you might encounter challenges when trying to streamline your workflow on an iPhone.
While Google's services are accessible on iOS, their user experience doesn't quite match up to their Android counterparts. For example, the Google Photos app on Android offers an array of features, including quick editing tools, AI-powered photo grouping, and automatic backup.
In contrast, the iOS version of the Google Photos app lacks some of these features. This difference could be due to Apple's own restrictions or perhaps the developer's limitations, but it can still make using Google services on iOS somewhat less seamless. Unfortunately, the built-in iPhone Photos or iCloud services don't quite measure up either.
Furthermore, some Google apps on iOS can feel a bit out of place, especially those within the productivity suite. For instance, in Google Docs, it's not possible to highlight entire paragraphs with just three taps.
Google Sheets lacks the functionality to create charts, tables, or forms, and the same limitations apply to Google Drive. In the Drive app on iOS, you can't view documents as easily as you can on Android.
Siri is No Match for Google Assistant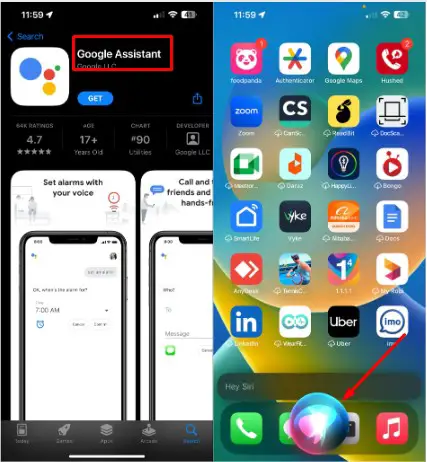 Apple's digital assistant, Siri, lags far behind Google Assistant in terms of both usability and functionality. Siri's ability to retrieve contextual data is considerably limited when compared to Google Assistant. This inconsistency might be attributed to Apple's strict privacy policies, while Google tends to be more free in data collection.
You'll find yourself missing the convenience of Google Assistant when it comes to setting reminders and making voice calls. The same holds true for contextual data such as news, weather updates, and tailored information based on your query's context.
Moreover, Siri could benefit from more clarification in understanding user requests. Google Assistant excels at tasks like opening specific albums in Google Photos with voice commands, such as "Show me Rachel's graduation day photos." In contrast, achieving the same with Siri often requires multiple attempts and steps.
In terms of the user experience, Siri falls short of Google Assistant. For instance, while using Google Assistant for navigation, you can easily request reroutes or switch between multiple destinations. However, accomplishing the same with Siri can be a bit more perplexing.
Limited Customization Options for Layouts & Themes
If you're someone who enjoys personalizing your device, moving from Android to iOS could be a potential deal-breaker. Apple has made advanced in enhancing its interface design and animations but still lags behind Android in terms of customization.
Android offers an extensive array of customization options, ranging from icon packs to home screen layouts and font styles. Furthermore, the Google Play Store and third-party apps provide access to numerous themes, launchers, and wallpapers, along with various tweaks and customization tools.
In contrast, iOS provides only limited customization options, primarily centered around changing the wallpaper. Even if you attempt to use third-party apps to modify the look and feel of iOS, they might work briefly or encounter issues since they often violate Apple's privacy policies.
Therefore, if you're seeking a highly personalized experience, it's advisable to stick with Android. Otherwise, you might end up regretting the switch due to the restrictions on customization in iOS.
Costly Purchases of Apps, Services & Accessories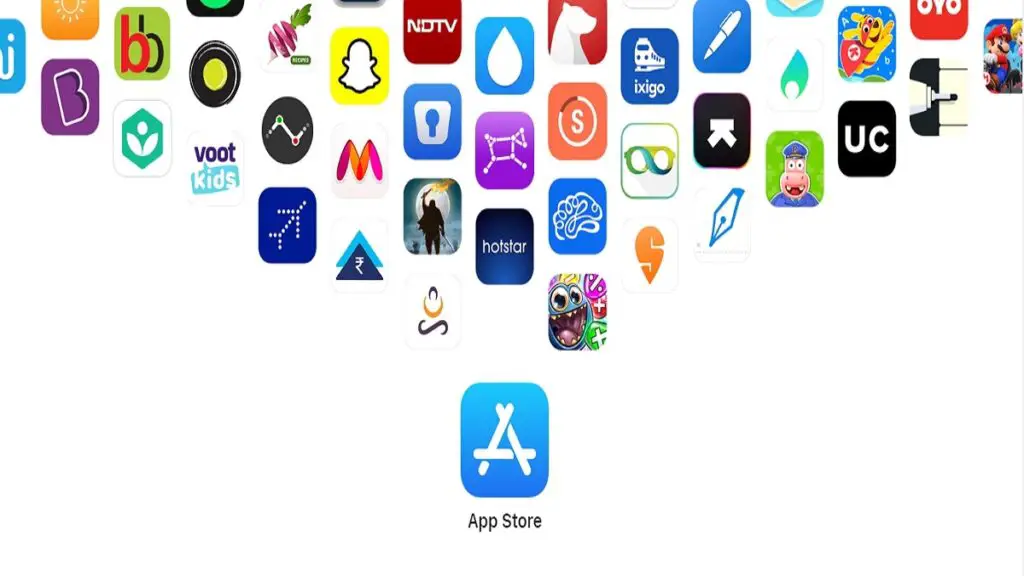 When transitioning from Android to iOS, be prepared to make several new purchases, starting with apps and services. Some iOS-exclusive apps lack Android versions, necessitating repurchasing, even if you've used the same app on Android.
Additionally, many accessories are exclusive to Apple's ecosystem. For instance, if you wish to use AirPlay with your HomePod or Apple TV, you'll need to invest in Apple's accessories.
Likewise, if you want to utilize wireless charging for your iPhone, you'll have to acquire a wireless charger from Apple. Conversely, the market offers a wide range of Android-compatible accessories, often at more budget-friendly prices than Apple's offerings.
Furthermore, Apple users may find themselves incurring expenses for certain services that Android users enjoy for free, such as iCloud storage, which could be a drawback if you heavily rely on cloud storage without wanting to pay extra.
Therefore, if you appreciate the accessibility of Android accessories and free services, making the switch to iOS might not be the ideal choice for you, unless you're ready to bear the higher costs associated with Apple products and services.
The Constraints of the Apple Ecosystem
Apple is renowned for its tightly-integrated ecosystem, simplifying transitions between Apple devices. Features like AirDrop enable seamless sharing of photos, documents, and videos from a Mac to an iPhone or iPad. Continuity empowers you to initiate tasks on one device and effortlessly continue on another.
Apple's Handoff feature allows you to pick up where you left off, whether it's emails, web pages, or other activities, on any Apple device. Furthermore, iCloud offers access to messages, notes, photos, and more, all with the added security of end-to-end encryption.
However, these capabilities are exclusive to Apple devices, and you won't have access to them when switching to iOS from Android. If data portability and cross-device accessibility are your top priorities, it might be preferable to remain with Android rather than switching to iOS. Otherwise, you could find yourself regretting the transition.
Hasslesome Shopping Experience
Typically, Android users enjoy a more streamlined online shopping experience compared to Apple users. Android devices come equipped with Google Pay, which enjoys broader acceptance among merchants than Apple Pay. Google Play provides a hassle-free and secure platform for app and game downloads.
In contrast, iOS users encounter limitations due to Apple's strict in-app purchase rules, which necessitate the use of Apple Payments for making purchases from within apps. Additionally, all app and digital downloads and purchases need a complex process, even when using the same account for downloading an app.
For instance, the Kindle app allows you to browse books but doesn't permit you to make purchases directly. This restriction exists because iOS mandates downloading the Amazon app for making payments. On the other hand, Android simplifies the process of buying items from third-party retailers, often with minimal or no barriers.
We get it, we are android geeks.
But does that mean we don't highlight Apple's benefits?
Hell No.
Look them down below:
Why You May Never Regret Switching to iPhone from Android?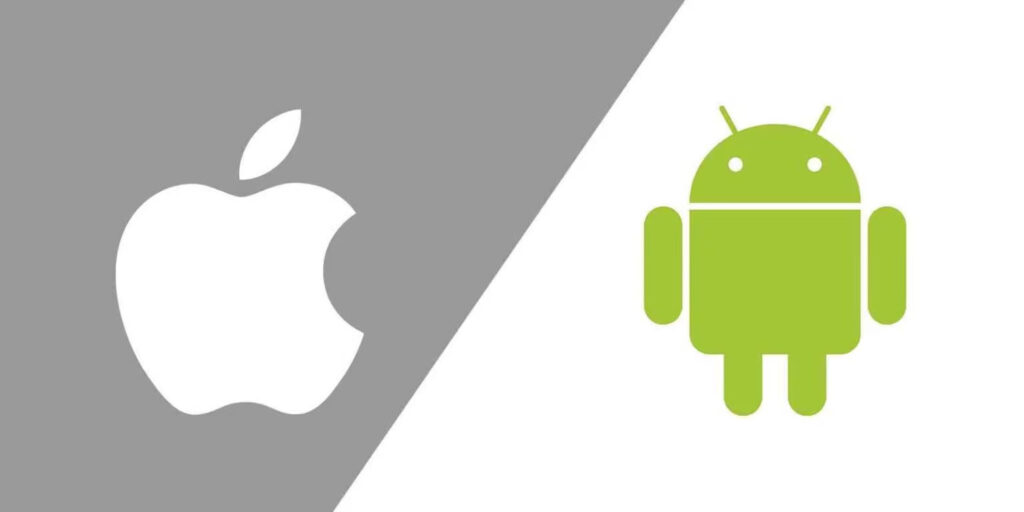 Despite some possible drawbacks, shifting from Android to iOS can remain a wise choice, particularly for newcomers to the platform. Let's delve into the remarkable advantages of making the switch from Android to iOS.
Exceptional Hardware and Performance
Apple's iPhones are renowned for their exceptional hardware and performance. While they may come with a higher price tag, the embedded features make them a worthwhile investment. iPhones boast the latest A-series processors, robust batteries, stunning Retina displays, and top-tier cameras.
In contrast, Android is distributed to a wide array of smartphone manufacturers, including OnePlus, Samsung, Oppo, and Xiaomi. This diversity results in Android devices varying in size, features, and specifications. While more expensive Android phones can compete with iPhones in quality, cheaper options carry a higher risk of reliability issues.
Furthermore, iPhones are celebrated for their smooth and highly efficient user experience. The high-performance A-series chips and the seamless integration of hardware and software, a feature that Android often lacks, set them apart from the competition.
Super-Smooth Streaming and Capturing Experiences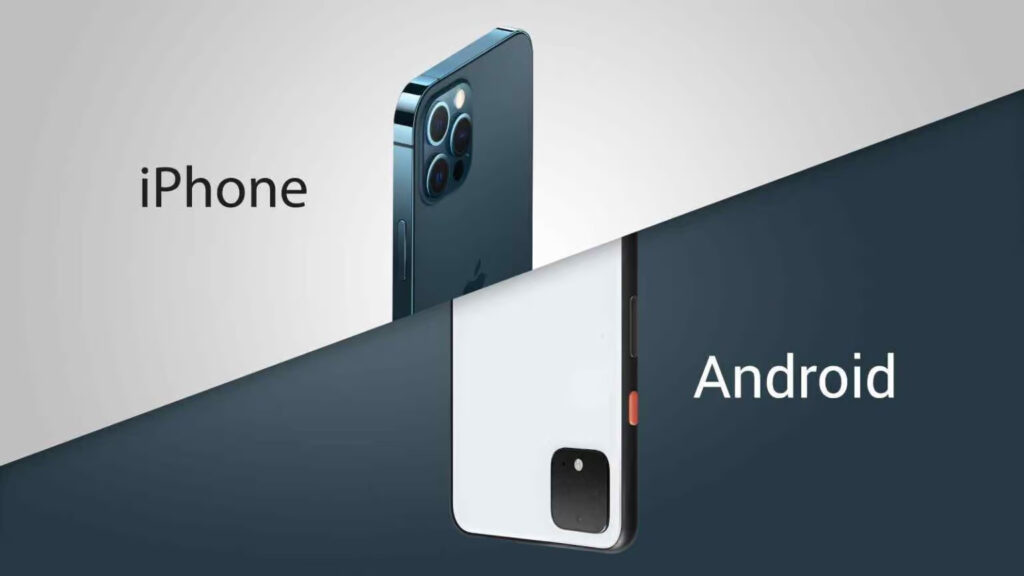 Apple's hardware-software integration ensures a smooth streaming experience. iPhones feature ultra-fast processors for 8K videos and video editing. Their long-lasting batteries support extensive media consumption. With up to 1TB of storage, iPhones have ample space for music and videos.
In video capturing, iPhones excel with stunning cameras, 4K recording at 60fps, time-lapse, slo-mo, and various stabilization options. Smart HDR enhances photo and video quality.
Android phones have diverse hardware specs, limiting streaming and video editing. Camera specs often lag behind iPhones, except in high-end models.
Nothing Competes iPhone's Privacy and Security Features
Apple products are renowned for their top-notch privacy and security features. Regular software updates with security patches keep your data protected from threats. iCloud backups and messages benefit from end-to-end encryption, a feature Android lacks. FaceID and TouchID are highly secure authentication methods.
iPhones provide a built-in VPN, Safari with tracker blocking for safe browsing, and Find My iPhone to locate lost or stolen devices. In contrast, older Android versions sometimes lag in updates and security. While Android 11 marks progress, Apple's iPhones maintain an edge in privacy and security. Apple's strict App Store controls prevent fake or malicious apps, ensuring genuine downloads.
If privacy and security top your list, switching to an iPhone could be the right choice.
The Greatness of the Apple Ecosystem
While new iPhone users might initially view Apple's tightly-knit ecosystem as a drawback, it ultimately proves highly advantageous. This ecosystem enables seamless file management and synchronization across all your Apple devices. Notes written on one device appear on others, and iCloud facilitates a smooth transition between devices.
Additionally, Apple's online services like Apple Music and Apple TV+ allow music and TV show streaming directly from your iPhone. If you're comfortable with the premium price point, making the switch from Android to iPhone is a sound decision.
Superior Customer Support
Apple excels in customer support, offering round-the-clock technical assistance for iPhone issues via phone or online chat. Notably, their "Find My iPhone" feature aids in tracking lost or stolen devices and even allows remote data erasure with Apple's support.
In contrast, Google's support mainly extends to their own products, leaving Android users to navigate issues on their own, including lost or stolen devices. Apple's customer support surpasses what's typically available in the Android world.
The Value of iPhones is Always Higher
Finally, iPhones maintain their resale value significantly better than Android phones. Even after a few years of use, you can still command a substantial price for your device, which isn't the norm with Android phones.
For example, if you bought a Samsung Galaxy S20 for $1000 two years ago, you might now receive approximately $200-300 for it. In contrast, a similarly priced iPhone from the same period could still fetch $500-600. This is due to Apple devices' extended hardware durability, which enhances their resale value.
Top tips for switching from Android to iPhone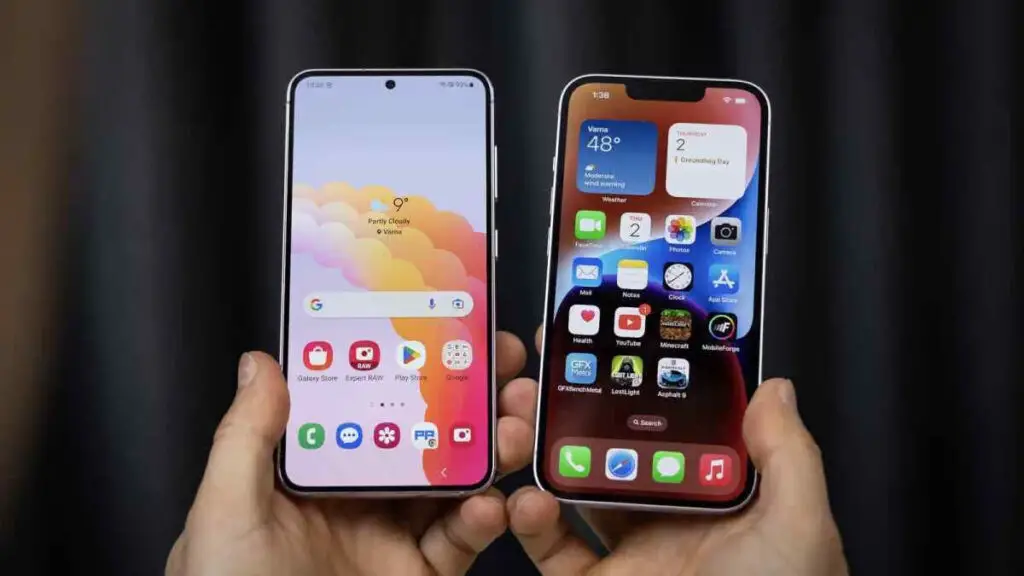 Whether you're new to iOS or seeking pre-switch advice, these top tips are valuable to remember.
Back it up!
Before transitioning to a new phone, particularly when switching between different operating systems, it's crucial to back up your data. This ensures peace of mind during the shift from Android to iPhone, knowing that all your data remains secure during the transfer.
You can still download Google apps
Just because you've made the switch away from Android doesn't mean that you have to lose your favorite apps. Google does make apps that work on iPhones including Google Maps, Gmail, Google Calendar and Google Photos. You can simply re-download these apps onto your iPhone and log in using the same account you were using on your Android device.
iPhones have widgets too
Transitioning from Android doesn't requirw bidding farewell to home screen customization and widgets. Just press and hold the home screen until a '+' symbol appears in the top-left corner. From there, you can choose various widgets to add to your home screen, from photos and clocks to notes and maps, offering a excess of customization options.
You can also opt for the Smart Stack, enabling the rotation of selected widgets automatically.
Personalize your iPhone
We believe your phone reflects your digital identity, and everyone is unique. To make your new iPhone truly yours, use Apple's settings to stand out:
Wallpaper: Set a unique wallpaper by going to Settings > Wallpaper > Choose a New Wallpaper. You can pick from Apple's designs or use your images for both the lock and home screens.
Ringtone: Personalize your ringtone by navigating to Settings > Sounds > Ringtone. Choose one that resonates with you.
Home screen: Get creative with your home screen by organizing apps into folders and arranging them as you like. An organized home screen is a satisfying one.
Phone case: Explore a vast selection of iPhone cases, from clear to colorful to personalized options. Find one that suits your style and protects your phone from drops.
Protect your new phone
When transitioning to a new device, invest some time in researching iPhone insurance. Given the high cost of the latest smartphones, it's essential to protect your new iPhone with insurance. Whether it's accidental damage or theft, having a policy ensures peace of mind knowing you're covered.
Keep up with Apple's software updates
Both Android and iPhones receive periodic software updates. However, the process differs. Android updates are somewhat delayed as they are integrated into third-party builds, undergoing extensive carrier testing and approval.
In contrast, Apple's updates are swiftly deployed to all iPhones. Updating your iPhone is as simple as going to Settings > General > Software Update. You can even configure your iPhone for automatic updates. These updates are crucial for upholding your iPhone's security and accessing the latest features.
FAQ's:
Is Android More Popular than iPhone?
Yes, Android enjoys greater popularity than iPhones. Statista data reveals that Android claims approximately 71% of the global smartphone market share, whereas iOS only holds around 27%. Furthermore, Android phones are available in diverse shapes and sizes, making them more accessible to a wide range of customers.
Which Serves for The Longer Term, iPhone or Android?
Android phones tend to have longer-term utility compared to iPhones. One key reason is that Android models are released on a wide variety of devices by many different manufacturers, while iPhones come from a single company. This gives Android more hardware diversity and options that continue to be supported over time.
Topping that with things like replaceable batteries, expandable storage via SD card slots, and greater repairability – all of this give Android devices longer useful lifespans than iPhones which have fixed batteries and storage. While iPhones excel in areas like processing power, Android as a platform serves people's needs over a longer period due to the wider flexibility, customization, and support offered across its extensive hardware and software ecosystems.
Conclusion
To sum it up, whether you choose Android or iPhone depends on your personal preferences and needs. Both have their pros and cons, and switching from one to the other is a big decision. If you decide to make the switch, follow the tips provided to ensure a smooth transition.
Keep in mind that there may be some things you'll miss about your old device, but there are also many benefits to enjoy with the new one. Ultimately, the decision is yours to make based on what matters most to you – whether it's customizability, user experience, app availability, or security. Take your time, weigh the options, and make the choice that feels right for you.